Cross posted at the Liberty Zone, because I hate socialist, hypocritical fuckwads.
Ya think the numbnuts who voted for the socialist DICKtator Hugo Chavez in Venezuela and his enthusiastic rectum-licking sycophants (Yes, I'm talking to you, Cindy Sheehan and Danny Glover!) are loving the "freedom" he's forcibly bringing to Venezuela?
Venezuela's top court on Friday ordered the Defense Ministry to take control of installations of an opposition television station amid a show of military force before the station's controversial closure.
President Hugo Chavez's decision to close the RCTV television channel, which he accuses of backing a 2002 coup against him, has prompted international condemnation and several demonstrations.
Venezuela's Supreme Court ordered the military to "guard, control and monitor" some of the station's installations and equipment including transmission equipment and antennas throughout the country.
Now, if Bush/Cheney/Halliburton/Evil Chimpy McHitler/Lambchop staged the same kind of assault on the First Amendment in this country, think these Marxist douchebags would be screeching their little lungs raw?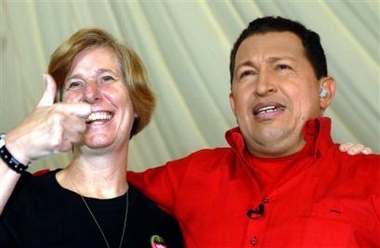 The kind of freedoms Chavez is summarily taking a large, steamy dump on are the freedoms Casey Sheehan died defending. He died in defense of the very rights Chavez is destroying in Venezuela. Too bad his oozing, Marxist (insert not so nice word for a part of the female anatomy here) of a mother is trampling all over his memory and his sacrifice by fellating the festering Venezuelan freak.
Tags: Cindy Sheehan, freedom, Hugo Chavez, socialist scum, threats to freedom, venezuela